PolicePro has been surprising people since 1997. It started as a one-man outfit on a part-time basis to address a need in Dave Lundgren's own police department. No funding, no particular game plan, just a real need to run a working detective division in the still early days of personal computers. Along the way, a few other departments heard what was going on and expressed interest. By accident, a company was born and a great product began to evolve far past the detective division.
Upon retiring after 23 years as a police officer, detective, sergeant and detective sergeant, Dave incorporated the company as Steamboat Data Systems. The name comes from our move to Saratoga County and the town of Waterford, right along the Erie Canal where it joins the Mohawk and Hudson rivers. Waterford has a strong history with the canal, including the annual Steamboat Pull weekend in the summer. The idea of steamboats moving information in the early days seemed like a nice tie-in between what we were doing and where we lived.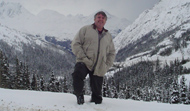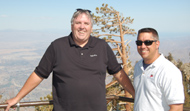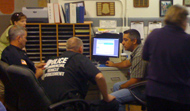 By this point, Greg Wagler had been an integral part of the outfit for years. Also a Town of Poughkeepsie cop, now retired but still carrying a badge with a small part-time PD in the Hudson Valley, Greg has a lengthy history in law enforcement and a very good grip on database creation with particular strengths in data migration and text wrangling.
Greg was also a longtime member of the Traffic Enforcement unit, and his expertise as an accident investigator has served as a great foundation for the kind of discipline we need when writing software. An exact eye, no BS, and get it done right.
In 2009, we were lucky enough to catch the eye of Doug West, a programmer-extraordinaire from up in the Adirondacks. We met Doug through our involvement with a local database developers' group. When he came on board he brought a business and entrepreneurial background that we sorely needed, as well as an extreme and varied programming skill set. His arrival allowed us to add more power to PolicePro's strong foundation through features such as our RICI LiveScan integration to eliminate duplicate data entry.
We are also thankful for our talented trainers, PolicePro users themselves, who bring considerable skill and personality to the training of new officers and users.
We were quite lucky to end up with this particular stew of varied talents. We are a small, busy outfit by design. While the operational HQ of Steamboat Data is in Waterford, we are geographically spread across 150 miles of New York, from the Hudson Valley to the Adirondack Park.
When you call us for PolicePro technical support, or advice about anything else we do, you get the person or persons who actually wrote the solution in the first place. This means you get answers, not a bunch of fast talk from some guy reading off a troubleshooting or sales script. It's quite a difference!