We understand the need for a flexible workflow, and we're committed to tailoring our system to your specific needs.
Give us a call to learn how a software partner can serve you better than a software provider.
Steamboat Data Systems offers the most useful, straightforward, no nonsense law enforcement system anywhere. PolicePro is computer-assisted dispatching and outstanding incident information management beyond the communications room, running every piece of your investigative and incident-based operations.
Evidence is easily tracked in PolicePro, including where it is, when it went to the lab or court, who took it, when it got back, and as many digital photographic images as you need. All your criminal complaints, witness statements, arrest cards, suspect and person data, no matter what you want to know – it's all right on your desktop or on the laptop computer in your police car, right down to the location that Officer Roberts called out at 12 minutes ago.
PolicePro also keeps track of your personnel, active warrants, and the due diligence your people are expending on those warrants – crucial information on Domestic Violence cases. Department inventory, assignments, traffic stop information… every piece of the core mission of a police department falls under the PolicePro umbrella.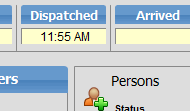 Dispatch Screen
The Dispatch Screen is the glue that holds it all together. Here you will have easy access to a remarkable amount of associated information.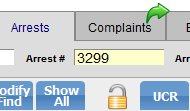 Arrests Screen
We've taken the guesswork out of UCR by guiding you through the required information as you go and offering stress-free reporting.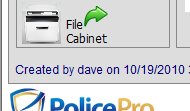 File Cabinet
Store evidence photos, videos, sound files, and other important documents in the integrated electronic file cabinet for easy retrieval.
Master Names Library
A concise view of the entire history for individuals will save countless hours of frustration. Access the latest contact information at-a-glance.
People who have left here and gone to other departments tell me that PP is simply the best they've had.

–Campus Edition User in New York