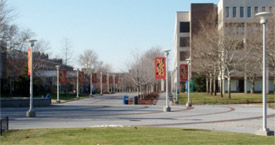 Hospital, campus safety and similarly tasked agencies share the same information management and reporting responsibilities the police do. Any agency, small or large, local or widely distributed, can benefit from the PolicePro call/response model.
US Campus installs include complete Clery tracking and the new Title IX reporting as well. If your mission requires something special, we are the people to give it to you.

At the most basic, the big difference between a campus public safety/police agency and a traditional police agency is the addition of a known population: the students, faculty and staff. PolicePro Campus Edition builds this right into the PolicePro core to give officers the same information management power regardless of what it says on the patrol car door.
Since every PolicePro install involves a certain amount of customization – which is what really separates us from everyone else – you can be sure your system will be just what you need. Whether you are a statewide narcotics division spanning hundreds of miles, a small college campus, a regional Task Force, or the national police of a South Pacific island, PolicePro will work the way you do.
Tracking known populations
Clery reporting
Title IX reporting
Fine-tuning for your specific needs